What To Do When Your Basement Floods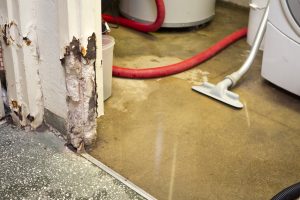 Unexpected issues at your home or business are never fun but it's important to be prepared. So what should you do if you find water in your basement? Don't panic! Here are some quick tips on how to remediate the issue:
First things first, figure out if you have flood insurance. Call your insurance agency and report the flood. It's also important to determine your coverage limit and deductible amount.
You should make sure any power around the flooded area is shut off. Never walk into a flooded area if the power is on. If you aren't sure how to shut off power call an electrician. Once the power is disconnected, avoid touching any electrical items.  It's best to leave those items until you consult an electrician.
Determine where the water is coming from. If it's caused by rainfall, wait until the storm is over before you assess the situation. If it's coming from a burst pipe, shut off the water to the basement immediately. If it's from any other source, take action as soon as you can.
Wear protective gear,  like gloves, boots and a mask. If the water is high, hip or chest waders may also be needed.
If your basement has a floor drain, check to make sure it is open and working properly to help drain the water.
Start removing water from the basement. Once most of the water has been removed, try to soak up the rest with old towels or sponges.
Remove damaged items from the basement and put them into a dry area. If it's sunny out, this may be your best option. Most items need about 48 hours to dry out. If they do not dry within that time period, you may need to throw them out to avoid mold growth. If you have wet cardboard boxes, try to salvage what's inside and then toss them.
If you basement is carpeted, rip up the carpeting as soon as possible. This is so the floor underneath can dry properly. Sometimes wet carpet can be salvaged but not always – contact a restoration specialist to be sure.
Once cleared, let the basement dry for several days. Turn on fans and open windows if you can. Also, run a dehumidifier if you have one.
Determine if the drywall and insulation is wet or damaged, if the answer is yes remove them to prevent the spread of mold. If you can't do this yourself, contact a remediation specialist or a contractor.
Once the floors and walls are finally dry, spray an anti-mildew spray to prevent mildew and mold from developing in the future.
If these steps seem like too much to handle alone, we highly recommend calling a professional to help, especially if the water is more than a few feet deep or you see mold or mildew growing. It's also a good idea to get a professional opinion if you don't know what caused your basement to flood in the first place. Depending on the specific situation, we'd be happy to recommend local vendors that specialize in flood mitigation and have the proper tools to help. Contact us for more information.
---
DISCLAIMER:
The information included in this publication and accompanying materials was obtained from sources believed to be reliable for informational purposes only. Kinney Pike Insurance and its employees make no guarantee of results in connection with any training, materials, suggestions, or information provided. This information is only a tool to assist you in managing your responsibility to maintain safe premises, practices, operations, and equipment. All sample materials serve as a guideline, which you can use to create your own programs, policies, and procedures to reflect your own operations. Furthermore, it cannot be assumed that all possible hazardous conditions or unsafe acts that may exist are covered, every acceptable safety method is contained in this publication, or that specific circumstances may not require additional methods or alternative safety considerations. It is the user's responsibility to confirm compliance with any applicable local, state or federal regulations. Information obtained from Kinney Pike Insurance should not be used as the basis for legal advice or other advice, and should be confirmed with alternative sources. Implementation of any practices suggested by this information is at your sole discretion; and Kinney Pike Insurance or its affiliates shall not be liable to any party for any damages whatsoever arising out of, or in connection with, the information provided or its use.