Brake Safety Week is Sept. 16-22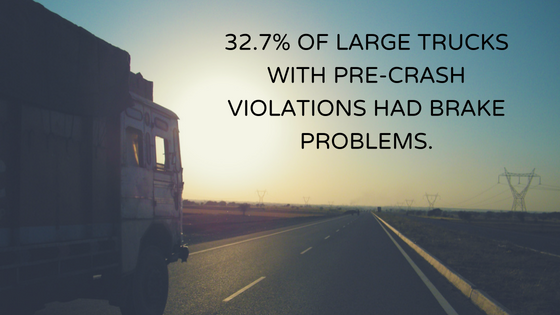 CVSA-certified enforcement personnel will conduct roadside inspections on commercial motor vehicles (CMVs) as part of the Commercial Vehicle Safety Alliance's (CVSA) Brake Safety Week, September 16th – 22nd, 2018. The goal of this inspection blitz, is to identify and remove CMVs with critical brake violations from our roadways and to call attention to the dangers of faulty brake systems.
CVSA says most of the inspections that will be performed during the week-long blitz will be full Level I inspections, the most comprehensive inspection that includes an examination of driver operating requirements and vehicle mechanical fitness. However, inspectors will have a keen focus on brake components, including loose or missing parts; air or hydraulic fluid leaks; defective rotor conditions; measurement of pushrod travel; mismatched air chamber sizes across axles; air reservoir integrity and mounting; worn linings, pads, drums or rotors; required brake-system warning devices; and other brake-system components. Vehicles with defective or out-of-adjustment brakes will be placed out of service. According to the CVSA, 14% of last year's Brake Safety Day inspection blitzes, resulted in an out of service order because of brake violations.
To make sure that all drivers are passing inspection without any issues, it is important for drivers know what the inspection criteria is for a North America Standard Inspection – Level 1. This is will also help them take the appropriate steps to maintain a safe commercial motor vehicle. Here are the major items inspected in this 37-step procedure:
Headlamps
Frame
Fuel System
Emergency Exits
Electrical Cables
Engine and battery compartments
Exhaust system
Brake lamps
Coupling devices
Seat belts
Brakes

Safe loading
Lamps on projecting loads
Steering mechanism
Stop Lamps
Suspension
Cargo securement
Tires
Tail Lamps
Wheels, hubcaps and rims
Turn Signals
Windshield Wipers
The DOT inspector will also look at the driver's information, as well as ensure there are no drugs, alcohol or hazardous material being transported. This can include:
Daily log and driving hours
Drivers license
Medical card and waiver
Driver and vehicle inspection report
Here are some easy ways you can prepare for Break Safety Week 2018:
Have drivers closely monitor pre & post trip inspections to ensure deficiencies are identified.
Ensure you are properly servicing your fleet by rotating your vehicles through routine maintenance procedures.
Make sure your medical documentation is up-to-date.
Double check that your Electronic Logging Device (ELD) is working properly.
Review your local/state regulations, as they can differ by region.