Fall Home Maintenance Tips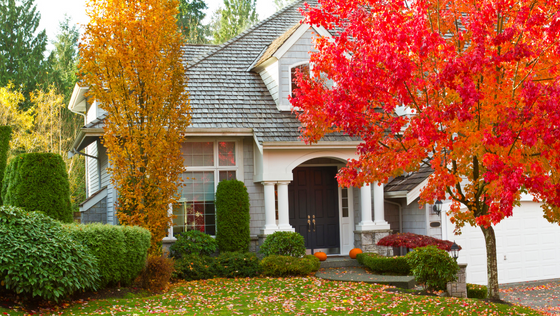 Fall in New England means cooler weather, apple picking, swapping your shorts for hoodies and unfortunately some minor home maintenance. If you're feeling overwhelmed and don't know where to begin, we've created a list of our top five fall home maintenance tips that you do not want to avoid.
An annual inspection and servicing of your furnace systems is highly recommended, as it not only helps to prolong the life of the system, but also saves you money. Before the cold autumn and winter weather sets in, be sure to call a heating/cooling specialist to come service your furnace. Neglect of furnace maintenance can lead to undetected leaks and reduced efficiency, which may cause carbon monoxide poisoning and increased utility bills.
As plants begin to die in the cold weather, make sure you remove any dead branches or decaying limbs on the trees of your property. When weighed down by ice and snow, or blowing in the wind, they can become hazardous and fall on your house or vehicle. They can also become a safety hazard to other people, if the debris fall on the ground. Not only can this be potentially dangerous for pedestrians, but if left unattended for long periods of time, dead plant matter can mold and rot which attracts insects.
Many issues can arise if you choose to neglect your gutters. Not only are clogged gutters an attractive place for rodents to hide, but if water is continually overflowing out of your gutters; this can lead to more serious problems like cracks in your foundation and roof damage.
Before you relight your fireplace, insure it's free from debris and has proper ventilation. Make sure the bricks, mortar and liner are also in good condition. Once you utilize your fireplace, keep the fire in place by using a fireplace screen to prevent sparks from flying out. Never leave a burning fire unattended, and make sure a fire in a fireplace is completely out before going to bed. Consider having your chimney cleaned and inspected by a professional if you can.
This is a simple task that only takes a minute and can save lives. It is important to inspect your smoke detector and carbon monoxide alarms at least twice a year to make sure they are operating.
Remember, the last thing you want to do is neglect seasonal home maintenance, as this will result in unpleasant surprises during the winter and spring months. If you need a list of professionals to assist you in completing these tasks, we'd be happy to provide you with a list of our recommended vendors. Call 800-296-5722 or email us at [email protected]