Drone
According to a 2015 industry report by Business Insider, the market for commercial/civilian drones will increase at a compound annual growth rate (CAGR) of 19 percent between 2015 and 2020, compared to 5 percent growth on the military side. The fast-growing industry presents a number of business opportunities for companies ranging from small entrepreneurs to Fortune 500 firms, but it also opens up new risks. Consider some of these drone mishaps that made the news: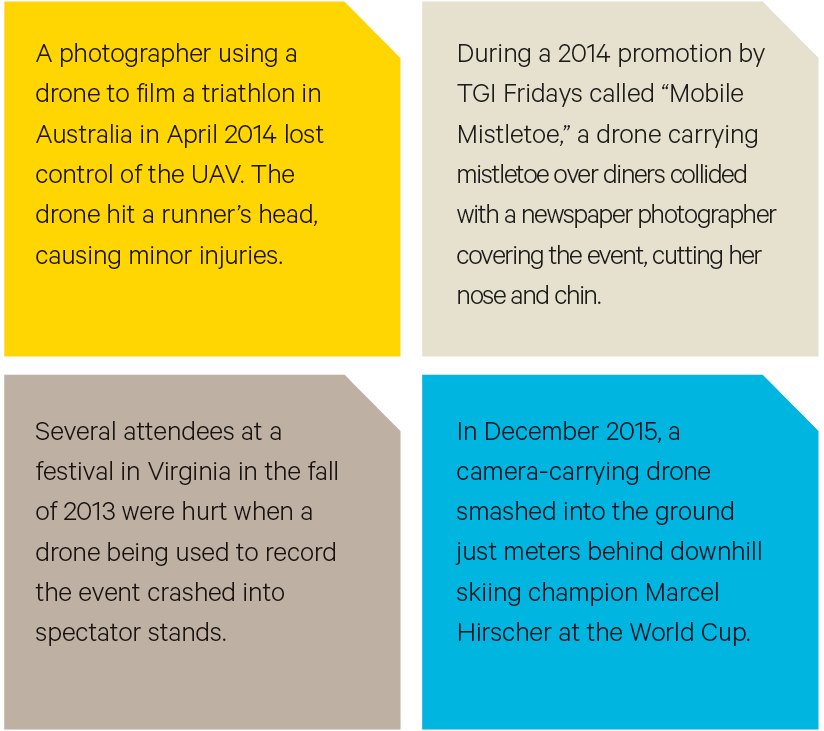 There are a multitude of exposures surrounding drones, ranging from injured bystanders to personal property damage to invasion of privacy. To mitigate those exposures, some insurance carriers have begun offering liability coverage for drones and other Unmanned Aerial Vehicles (UAVs). It's a brand new market with tremendous growth potential.
On June 21, 2016, the FAA released Part 107. Part 107 is a ruling that outlines small unmanned aircraft use for commercial applications. This includes: Operational Limitations, Remote Pilot in Command Certification and Responsibilities, Aircraft Requirements, and Model Aircraft. This new drone certification process will be put into action in late August, 2016.
A great resource for those looking to get into drones or UAVs can be found here at the UAV Coach Website.
More and more contractors are employing the use of drones throughout the duration of their projects. Here are seven ways that these contractors are using their drones for various on-site applications. Read more

There are many safety responsibilities that come with owning and flying a drone. Remaining diligent with drone maintenance can greatly reduce your risk of losing your drone or harming someone while flying. Review the pre and post flight checklist below every time you fly your drone to ensure the safety of yourself and people around you. Read more

Drones are exploding in popularity in the Northeast and so are the news stories about someone flying too close to a commercial aircraft or shooting down a drone. These are real incidents, but with these dos and don'ts of operation, you don't have to experience one. Read more