All Things Food Safety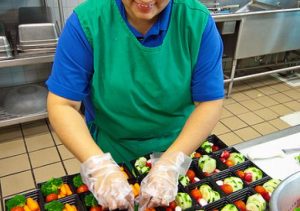 September is National Food Safety Education Month. Are your employees properly trained to handle food safely? The CDC says nearly 1 in 6 individuals get sick due to lack of food safety and 3,000 die of food-borne diseases each year.
The food world can be hectic, whether you manage a commercial kitchen, a food processing plant or just distribute; It's important that employees at all levels of the "food" chain are properly educated on food safety and federal regulations. Here are some tips to help keep the food your employees are handling safe and clean from contamination.
Remember, a knowledgeable staff is a good staff. If you don't train your staff, they may take shortcuts or forget things; increasing the risk of food contamination to the general public. If you are looking to promote proper training techniques and educate your employees on current food safety standards & regulations, look no further than the resources we've complied below.
The National Restaurant Association works to improve food safety through the use of their ServSafe Certification programs. Its main goal is to educate food service workers about food safety. ServSafe programs include: ServSafe Manager, ServSafe Food Handler, ServSafe Alcohol, and ServSafe Allergens. Earning one of these certificates is a two-step process comprised of training (covers the latest FDA food codes) as well as passing an exam.
The courses cover the following topics: food-borne illnesses, including information on specific food-borne pathogens and biological toxins, such as shellfish poisoning, contamination, and food allergens. Prevention is also covered, with information regarding purchasing and receiving guidelines, food preparation, holding, and serving guidelines, food safety management systems, sanitation guidelines for facilities and equipment, and integrated pest control, as well as food safety regulations and employee training.
Food Safety Modernization Act (FSMA)
The FDA Food Safety Modernization Act (FSMA), signed into law by President Obama, enables FDA to better protect public health by strengthening the food safety system. It enables FDA to focus more on preventing food safety problems rather than relying primarily on reacting to problems after they occur. The law also provides FDA with new enforcement authorities designed to achieve higher rates of compliance with prevention- and risk-based food safety standards and to better respond to and contain problems when they do occur.  The law also gives FDA important new tools to hold imported foods to the same standards as domestic foods and directs FDA to build an integrated national food safety system in partnership with state and local authorities.
Hazard Analysis and Critical Control Points (HACCP) is a systematic preventive approach to food safety from biological, chemical, and physical hazards in production processes that can cause the finished product to be unsafe and designs measures to reduce these risks to a safe level. In this manner, HACCP attempts to avoid hazards rather than attempting to inspect finished products for the effects of those hazards. The HACCP system can be used at all stages of a food chain, from food production and preparation processes including packaging, distribution, etc.
If you have any questions regarding all things food safety, feel free to contact our Risk Management Coordinator, Ryan Wilson at 802-295-3329 or [email protected]
Article written by: Ryan Wilson
---
DISCLAIMER:
The information included in this publication and accompanying materials was obtained from sources believed to be reliable for informational purposes only. Northern Safety Solutions/Kinney Pike Insurance and its employees make no guarantee of results in connection with any training, materials, suggestions, or information provided. This information is only a tool to assist you in managing your responsibility to maintain safe premises, practices, operations, and equipment. All sample materials serve as a guideline, which you can use to create your own programs, policies, and procedures to reflect your own operations. Furthermore, it cannot be assumed that all possible hazardous conditions or unsafe acts that may exist are covered, every acceptable safety method is contained in this publication, or that specific circumstances may not require additional methods or alternative safety considerations. It is the user's responsibility to confirm compliance with any applicable local, state or federal regulations. Information obtained from or via Northern Safety Solutions/Kinney Pike Insurance should not be used as the basis for legal advice or other advice, and should be confirmed with alternative sources. Implementation of any practices suggested by this information is at your sole discretion; and Northern Safety Solutions / Kinney Pike Insurance or its affiliates shall not be liable to any party for any damages whatsoever arising out of, or in connection with, the information provided or its use.