Summer Safety Tips for Outdoor Workers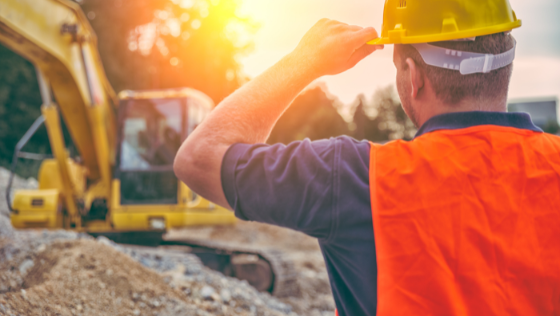 Summer time in New England means more construction workers are outside and on the roads. Although the warmer temps are a nice relief from the frigid winter; being outdoors also comes with a long list of risks. Here are the three of the most common warm-weather related dangers that can effect workers outside.
Heat Stroke & Exhaustions
There are several heat-related illnesses that outdoor workers can be exposed to. These include, heat exhaustion, heat cramps, and even heatstroke (the most severe).
When the body loses an excessive amount of salt and water, heat exhaustion can set in.
Symptoms are similar to those of the flu and can include severe thirst, fatigue, headache, nausea, vomiting and, sometimes, diarrhea. Other symptoms include profuse sweating, clammy or pale skin, dizziness, rapid pulse and normal or slightly elevated body temperature. Uncontrolled heat exhaustion can evolve into heatstroke, so it is important to make sure it is treated quickly.
Heatstroke can occur when the ability to sweat fails and body temperature rises quickly.
Someone experiencing heat stroke will have extremely hot skin, and an altered mental state, ranging from slight confusion to coma and may even experience seizures. Ridding the body of excess heat is crucial for survival. Here's what you can do if you or a co-worker experience heat stroke…
Move the person into a half-sitting position in the shade
Call for emergency medical help immediately
If humidity is below 75%, spray the victim with water and fan them vigorously; if humidity is above 75%, apply ice to neck, armpits or groin
Do not give aspirin or acetaminophen
Do not give the victim anything to drink
Ticks & Mosquitoes
Ticks and mosquitoes are becoming a major issue here in New England. Last year's tick season was one of the worst on record and with warmer than average winter temps, ticks are surviving all year round. It's important for employers to identify jobs that will put outdoor workers at greater risk for contracting tick and mosquito borne illnesses.
If a worker has contracted a Vector-borne Disease like Lime or West Nile Virus, some of their symptoms can include:
Body/muscle aches
Fever
Headaches
Fatigue
Joint pain
Rash
Stiff neck
Paralysis
Employers should provide education about the risks of these vector-borne diseases and what workers can do to avoid them. They should also supply mosquito repellant and furnish clothing treated with permethrin, an insecticide. If you believe you've worked in a tick prone area, it's important to perform a daily tick check.
Highway & Road Construction Work Zone Safety
Summertime also means it's roadwork season and that results in a lot more construction workers out on our highways & local roadways. Work zone fatalities reached a 16-year high in 2020.
Daily changes in traffic patterns, narrowed rights-of-way, and other construction activities often create a combination of factors resulting in crashes, injuries, and fatalities.
In addition to vehicular crashes and fatalities, the leading cause of death in the road and bridge construction sector are run overs, back overs, and falls. Here are some ways workers can stay safe inside a work zone:
The proper safety equipment should be worn by all personnel inside the work zone. Personal protective equipment (PPE) includes hard hats, steel-toed boots and highly visible clothing.
All PPE should meet or exceed the American National Standards Institute's (ANSI) developed standards.
Workers should avoid walking behind any vehicles that may be backing up or into the swing radius of heavy equipment.
Whenever possible, you should face traffic while inside the work zone or have a spotter available when your back is turned.
If you any questions regarding summer safety, feel free to contact our Risk Management Team at [email protected]
For more information, check out these additional resources:
https://www.dbkrieginc.com/onsite-work-safety.php
https://ops.fhwa.dot.gov/publications/fhwahop18044/fhwahop18044.pdf
https://www.constructconnect.com/blog/construction-safety/10-road-construction-work-zone-safety-tips/
https://www.nsc.org/home-safety/tools-resources/seasonal-safety/summer/heat
https://www.cdc.gov/niosh/docs/2010-119/
---
DISCLAIMER:
The information included in this publication and accompanying materials was obtained from sources believed to be reliable for informational purposes only. Kinney Pike, A OneDigital Company and its employees make no guarantee of results in connection with any training, materials, suggestions, or information provided. This information is only a tool to assist you in managing your responsibility to maintain safe premises, practices, operations, and equipment. All sample materials serve as a guideline, which you can use to create your own programs, policies, and procedures to reflect your own operations. Furthermore, it cannot be assumed that all possible hazardous conditions or unsafe acts that may exist are covered, every acceptable safety method is contained in this publication, or that specific circumstances may not require additional methods or alternative safety considerations. It is the user's responsibility to confirm compliance with any applicable local, state or federal regulations. Information obtained from or via Kinney Pike, A OneDigital Company should not be used as the basis for legal advice or other advice, and should be confirmed with alternative sources. Implementation of any practices suggested by this information is at your sole discretion; and Kinney Pike, A OneDigital Company or its affiliates shall not be liable to any party for any damages whatsoever arising out of, or in connection with, the information provided or its use.