Spring Cleaning 101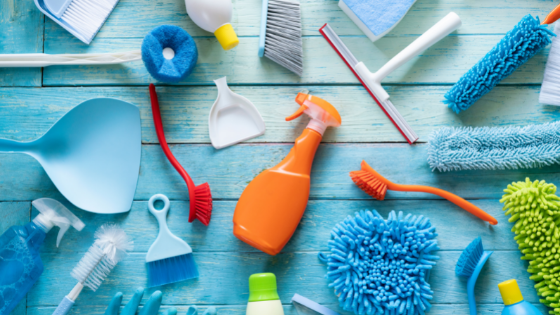 Spring is here and that means nature is undergoing a fresh start. Your home could use a fresh start too! Now is a great time to clean up the dirt and grime that has accumulated over the winter months in basements, storage sheds, attics, and garages etc. Before you start your spring cleaning, review these valuable tips.
1. Take it Easy
Spring cleaning can be hard work. Stretch before any vigorous cleaning activity. Break up your cleaning time — don't rush and try to clean everything in one day. Take frequent breaks if needed.
Use proper lifting techniques if you are moving large furniture or boxes. The last thing you want to do is hurt yourself while cleaning.
2. Wear The Proper Gear
Depending on which area of the house you're cleaning, whether it be outside or inside, make sure you're wearing the proper gear and using the necessary safety equipment. Safety goggles, long pants, gloves, and sturdy shoes are all recommended. Consider using a mask when cleaning dusty areas or using harsh chemicals.
3. Evaluate Your Cleaning Products
Have your cleaning products been sitting around since last year's spring cleaning season? Experts recommend examining all household cleaning products before using them, including laundry packets. These products may contain ammonia, sulfuric and phosphoric acids, lye, chlorine, lead, formaldehyde, and phenol.
Cleaners can burn skin, irritate eyes and cause respiratory harm. In addition, do not mix ammonia and bleach together, both of which are common household cleaners, because they create toxic fumes when combined. It may be time to go green.
4. Consider The Kids & Pets
Remember, children & pets are more vulnerable to the adverse effects of chemical pollutants. If you have children or pets, make sure all cleaning supplies and equipment are safely put away when you're done using them.  It's easy to get caught up in cleaning the house and forget about a bottle left here or there.
According to the Centers for Disease Control and Prevention, more than 300 children are treated in the U.S. every day and two die as a result of poisoning. Using a caddy carrier also helps by giving you a specific place to put bottles, lessening the chance you'll accidentally leave them behind.
5. Clear The Clutter
One of the most important parts of spring cleaning is getting rid of clutter. We recommend going room by room and sorting your belongings into four categories—trash, give away, store, or put away. Move the clutter out as soon as possible, whether it's bringing a donation box to a charity, planning a yard sale or storing it in your home.
6. Don't Forget Outside
Spring cleaning outside your home is necessary too. Get your yard ready by trimming dead trees/shrubs, clearing overgrown plants from the walkways, repositioning any displaced stepping stones and cleaning the grill.
It's also a great time to clean out your chimneys and gutters to reduce fire or flooding hazards.