Are You Ready to Compost?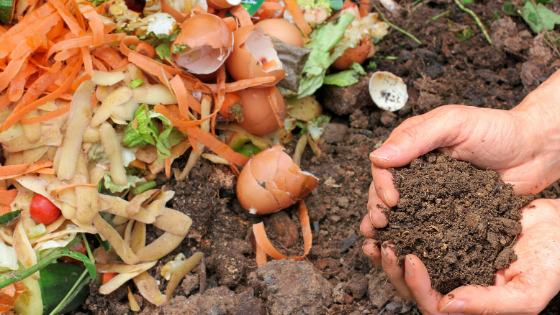 Eight years ago, Vermont lawmakers passed Act 148, also called the Universal Recycling Law, and Vermont became the first state to enact an all-out ban on food scraps in landfills. The law was rolled out in phases, and by this July, all Vermonters are required to separate their food waste from trash and recyclables. Once the new law is fully implemented, it's expected to boost the state's recycling and composting rate from 30% to 60%, which would make Vermont one of the greenest states in the country.
Many residents have already started making the appropriate changes by either creating a home compost or hiring a service to pick up their compost for them. But for those who haven't started yet, here's everything you need to know before the law goes into full effect on July 1, 2020.
Why compost?
The problem with rotting food scraps in landfills is the methane produced and released into the atmosphere. Methane is a powerful greenhouse gas that contributes to global warming.
Also, the state's only open landfill is located in Coventry, in the heart of the Northeast Kingdom. Instead of taking up precious space in the rapidly filling dump, organic material can be diverted from the waste stream and composted much closer to your home.
Plus, an added bonus: Without food scraps in it, your garbage is cleaner and less smelly.
What should you compost?
All food scraps can be composted, which includes anything that was once part of something alive, like a plant or animal. Some of the most common food scraps are peels, rinds, cores, eggshells, seeds, pits, bones, coffee grounds (and filters), loose-leaf tea, and fats/oils/grease.
Additionally, food that was eaten but not finished can be composted, like plate scraps & leftovers. Pretty much any type of food can become scrap–bread, pasta, soup, veggies, fruit, sauces, meat, dairy, sweets, etc.
How do you compost correctly?
The first step is to collect your food scraps in a container. You can buy a food scrap bucket, reuse a large yogurt tub, or keep a plastic bag in the freezer. Find a method that works for you based on how many food scraps you generate and how often you want to empty and wash your container. You'll want to empty your container regularly… Here are some ways you can do this:
Empty it into a backyard bin if you compost at home. Read Vermont's guide to composting at home here. It even has a great section about what to do regarding bears & other animals that may get into your compost. Remember, Vermont state law will allow residents who compost at home to dispose of meat and bones in the trash even after July 1, 2020.
Empty it into a food scrap tote if you have compost pick-up. There are many small businesses throughout the state that offer this service – here is a list.
Empty it into a larger container if you bring scraps to a drop-off. You can drop off food scraps and yard debris at any transfer station or bag-drop in Vermont. Many compost facilities also have drop-offs. Consult Vermont's Materials Management Map for more information.
You can also feed your scraps to your livestock, just make sure this does not include meat & bones.
---
Article Sources:
https://www.hometowndumpsterrental.com/blog/mandatory-composting-coming-to-vermont
https://www.sevendaysvt.com/vermont/mandatory-composting-coming-soon-to-a-trash-can-near-you/Content?oid=2359984
https://dec.vermont.gov/waste-management/solid/materials-mgmt/organic-materials#Backyard%20compost