Featured Client: COVER Home Repair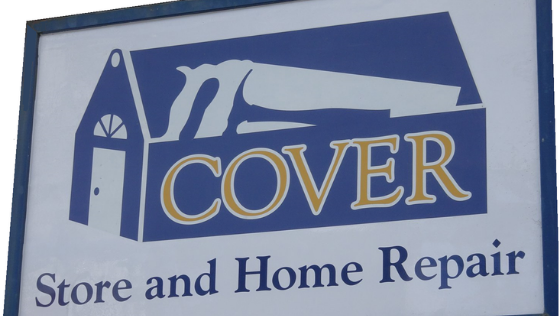 COVER Home Repair is a volunteer-driven community asset that strives to make homes safer, warmer, drier, and more energy-efficient, for those who otherwise could not afford to do so.
Founded in the Upper Valley in 1998, COVER's mission is to foster hope and build community by bringing together homeowners and volunteers to make urgently needed home repairs. COVER's target population is low-income homeowners, many of whom are elderly and/or disabled.
Examples of the type of work COVER does are roof repair and construction, accessibility ramps, replacing stairs, floor repair, widening doorways, and installing grab bars and handrails. COVER's weatherization program focuses on air sealing homes to increase energy efficiency and lower heating bills.
COVER also runs a store, The COVER Store, which sells donated quality furniture, tools, appliances, building materials and more. Sale proceeds help to fund COVER home repair projects.
The Store accepts gently used furniture, cabinets, appliances, tools, windows, doors, lighting fixtures and resells these items at unbeatable prices. The Store also runs a voucher program that helps qualifying recipients furnish their homes for little or no cost. In recent years, COVER's book department has gained popularity with a reputation of having a quality selection of books marked at just two dollars apiece!
Eighty-five percent of COVER homeowners make less than the Federal Poverty Guideline, which is $17,420 for a two-person household. Qualifying home repair and weatherization projects must meet the following criteria: the repair must be urgently needed; the home must be within 45 minutes of our facility in White River Junction; the repair must be suitable for volunteers and the homeowner wants to be engaged in the project in any manner that they are able. Homeowner engagement can look like anything from being part of the work crew, making lunches and snacks, or just sitting with volunteers and staff sharing stories.
During the winter months, COVER staff and volunteers weatherize homes using its blower door and infra-red camera to detect the location of cold air infiltration and seal the leaks. At an average cost of $100 in materials, COVER can help save hundreds of gallons of heating fuel and reduce heating expenses! 
Community support is essential to COVER's work. COVER also enjoys support from all its volunteers and local businesses like Kinney Pike.
Each year COVER's staff and volunteers touch the lives of hundreds – whether it's a senior citizen who wants to stay in his/her home as long as possible or a single parent at the risk of losing his/her home unless urgently needed repairs can be made.
In the past twenty years, COVER has helped thousands of families stay warmer, drier, and safer. Whether you donate to or shop in the store, it helps your neighbors in need. You can also help your neighbors by volunteering on a home repair project – you will be provided with lunch, tools, and experienced instruction, so no special skills required!).
For more information and to see current volunteer opportunities, please visit COVER's website www.coverhomerepair.org or follow them on Facebook. To donate items to the COVER store, please visit the website for donation guidelines or email [email protected].

The COVER Store is located at 158 South Main Street, White River Junction. Hours are Monday through Saturday 10 am-5 pm and Sunday 10 am – 3 pm.
Article written by: Lisa Ricci, Volunteer Coordinator of COVER Home Repair