Safe Biking Tips for Summer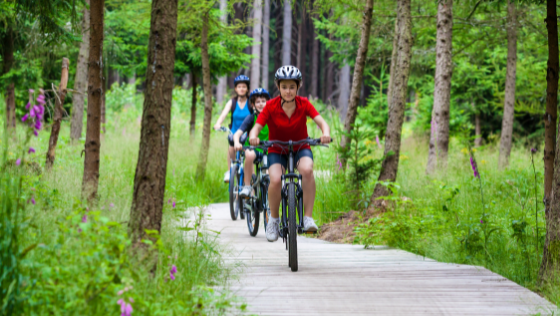 It is summer and that means a surge in bicyclists sharing the road with motorized vehicles. It is so vital for both cyclists and drivers to take safety precautions seriously. Before getting out and enjoying a bike ride on the road or at a park make sure you review our helpful bike safety tips.
Helmet – one of the cardinal rules of biking, always wear a helmet, whether you are an adult or a child. NHSTA has a helpful helmet guide that you can utilize if you're unsure of how a helmet should fit. Additionally, here are some questions you can ask yourself when you are searching for the right helmet:
Is the helmet comfortable and not too heavy?
Does the helmet fit snugly and stay in position?
Does the helmet have enough ventilation, so it stays cool? (This is especially important for summer riding)
Cover Up/Proper Gear – Make sure drivers can see you! This includes wearing proper gear, but also gear that will not cause you to overheat or weigh you down while biking.
More specifically loose-fitting, light clothing will allow your skin to breathe while you ride. However, make sure the fabric around your legs isn't so loose that it will get caught in your bike gears or chain.
Biking gloves can help you keep a grip on the handlebars, especially in the summer when you're more likely to perspire and have slippery hands.
Bright colors are best, whether you ride at day or night… If you do choose to ride at night be sure to have reflective gear & flashlights on you. A bike headlight is even better!
Hydrate – this is a must for warm weather rides! Dehydration can sneak up on you and before you know it, you are overheating and unsteady on your bike. To avoid becoming dehydrated, make sure you have plenty of water every time you get on your bike. Fill up a water bottle before your ride — one that can be opened easily with one hand or with your mouth is ideal. If you plan on a longer ride or biking is part of your commute, a water pack like a Camelback may be the best fit for you.
If you feel dizzy, faint, or start to get a headache while out cycling please stop and find shade, or even better an air-conditioned building, then assess the need for medical attention.
Follow the Rules of the Road – According to the National Safety Council, deaths from bicycle incidents increased 37% in the last 10 years. By following the rules of the road both cyclists & drivers can reduce this number. Don't know the basic rules of the road? Here's a rundown…
Get acquainted with your local traffic laws; bicyclists typically follow the same rules as motorists
Remain alert, keep your head up and look around; watch for opening car doors and other hazards
NEVER hitch onto cars
Before entering traffic, stop and look left, right, left again, and over your shoulder
Use hand signals when turning and use extra caution at intersections
If you're taking a ride and bring along a child or pet, be sure to take extra care when following these rules, as you have another person/pet to worry about
We hope you enjoy your summer and if you do decide to cycle, please do it safely! For more helpful biking safety resources, visit the links below:
https://www.nhtsa.gov/road-safety/bicycle-safety
https://www.nsc.org/home-safety/tools-resources/seasonal-safety/summer/bicycles
https://bayareabicyclelaw.com/safe-summer-biking-tips/
https://www.urgentteam.com/healthy-living-tips/summer-biking-safety-first/
https://www.cycling-inform.com/five-hydration-tips-for-cyclists