Featured Client: Champlain Community Services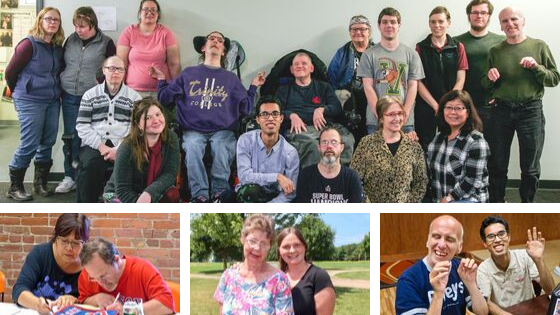 Champlain Community Services (CCS) is a growing developmental service and health care provider, primarily serving Vermonters with intellectual disabilities and autism. A nonprofit based in Colchester, CCS offers a broad array of individualized supports – at work, at home, at school, and for life – delivered with a personal approach. A true grassroots success story, the agency was founded in 1967 by the families of people with disabilities and has emerged as a leader in its field.
A specialized services agency focused on employment, CCS' signature supported employment program Way2Work is nationally recognized. Way2Work offers a unique continuum of employment supports for adults and youth with disabilities and/or other barriers to employment. These individualized supports range from pre-vocational training for high school students to internships and first jobs for recent graduates, through job training, placement, and support for adults. CCS promotes career development and advancement and even helps entrepreneurs with disabilities launch successful micro-businesses.
For local businesses, Way2Work helps employers across all sectors of the economy meet their needs for skilled employees and their workplace diversity goals. Way2Work meets with employers to provide "workplace accessibility and diversity" assessments and craft plans.
Beyond employment, CCS provides home and shared living supports, both for the consumers of our developmental services and through Homeward, our Adult Family Care program. Our Bridging program offers current high school students a wealth of community engagement and career exploration experiences to help them step confidently into their adult years. And CCS hosts and staffs Champlain Voices, a dynamic and active self-advocates group.
CCS also supports its consumers in pursuing a broad range of community activities matching their personal goals and interests: health & fitness; classes and workshops; cultural events; recreation and leisure; volunteering; and strengthening independent living skills.
To learn more about CCS, including how to partner with us in our work, visit our website at www.ccs-vt.org or contact Mike Reilly, Development Coordinator, at [email protected].