Did You Know Frozen Pipes Can Lead to Mold Growth?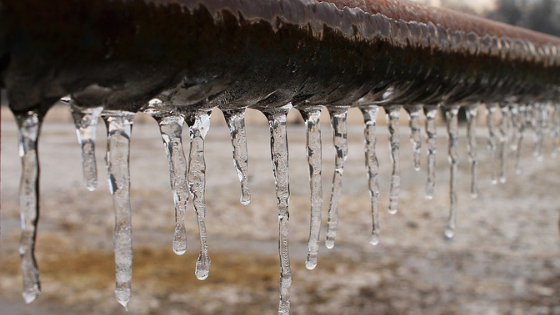 It's officially winter here in New England and the weather has already been brutal, bringing with it freezing temps and snow. Did you know when temps fall below 0°F it can lead to Indoor Air Quality (IAQ) problems? The reason being is because freezing temperatures can penetrate deep into the structure of a building, like exterior walls and uninsulated spaces, which leads to frozen pipes. When pipes burst, whether they are inside a coil unit of an HVAC, a portable or sanitary water line or part of the fire sprinkler system, it can lead to flooding, water damage and eventually mold growth, which in turn causes loads of air quality issues.
Tips to prevent frozen pipes:
Seal spaces and openings that allow cold air to seep in.
Keep your thermostat running at night or when you're away for the day (above 55°F)
If pipes run through your garage, keep the doors closed during the winter.
Use a space heater near pipes where cold spots are present but read these space heater safety tips first.
Insulate pipes, especially those found in crawl spaces and attics.
On especially cold evenings, allow warm water to drip from your kitchen and bathroom faucets.
Open cabinets to expose pipes to heat, especially for pipes against exterior walls and in cold areas of your home.
What you should do if your pipes freeze:
Determine if the frozen pipe is leaking or has burst.
If the frozen pipe has not burst, you may be able to thaw it with a hairdryer. DO NOT use an open flame.
If the pipe has burst, turn off the main water supply. If the leak is near electrical appliances, turn off the main power to those appliances.
Assess the damage. Depending on the size and location of the leak, water damage may extend to carpets, walls, and sub-floor.
Remove wet furniture, carpet, etc. Use towels or a mop to soak up the excess water.
Determine whether or not you should call a professional.
If you do have a burst pipe, try to dry out any wet areas immediately. If the area is not dried out within 24 hours, mold growth is highly possible and may not be visible. If there are concerns about mold due to delayed drying times, it is essential to hire a professional who is trained in IAQ evaluations and can help you determine the nature of the contamination, the extent of damage and develop a plan to remediate the issue, as well as help, prevent future occurrences. Depending on the specific situation, Kinney Pike is happy to recommend local professionals that have the proper tools to help. Contact us for more information.
---
DISCLAIMER:
The information obtained and included in this publication is from sources believed to be reliable for informational purposes only. Kinney Pike Insurance and its employees make no guarantee of results in connection with any training, materials, suggestions, or information provided. This information is only a tool to assist you in managing your responsibility to maintain safe premises, practices, operations, and equipment.  It is the user's responsibility to confirm compliance with any applicable local, state or federal regulations.You should always verify information with alternative sources before using it as the basis for legal and or any advice. Implementation of any practices suggested by this information is at your sole discretion, and Kinney Pike Insurance or its affiliates shall not be liable to any party for any damages whatsoever arising out of, or in connection with, the information provided or its use.